About Pet Dreams
Pet Dreams has been designing stylish, luxurious and affordable pet bedding since 1999.
We were the first company to design bedding for dog crates and we continue to focus on developing innovative dog beds that coordinate with every room in your home while providing affordability, comfort, and quality that is second to none. In fact, you can find our dog beds and other bedding in pet stores nationwide, mail order catalogs, and online including this very Web site!
The Pet Dreams Story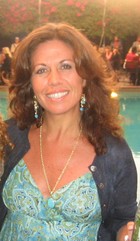 When I got my first puppy, I reluctantly purchased a dog crate. I immediately went shopping for bedding to make her crate comfortable and attractive but unfortunately found crate beds and covers did not exist! I thought the crate would be temporary but to my surprise my dog immediately took to it, treating it like her little home. After training, I would come home from work and find her in the crate. Although great for my dog the crate itself didn't look very comfortable and it certainly didn't look nice in my home. Since decorating is one of my passions I designed a decorative cover, crate pad and a bumper. Friends who visited saw my decorated crate and asked if I would make them a set. In 1999, after many requests for my custom made crate cover sets, I founded Pet Dreams.
I started Pet Dreams in small factories in the USA. To help make Pet Dreams affordable for all American pet owners I went abroad searching for factories that could produce high quality, luxurious dog bedding at reasonable prices. Today, I am passionate about developing innovative and affordable pet beds that will look great in your home! Stay tuned to see what other innovative dog beds and pet bedding we come up with!
27 W. 20th Street
10th Floor
New York, NY 10011
866-738-3732
support@petdreams.com
Follow Us On:
About Annette
Things I Couldn't Live Without
A blow dryer, my computer, iTunes, family, good friends and a valid passport!
My Passions
Dogs (of course!), my business, beautiful fabrics & furnishings, good food, travel and outdoor adventure
Favorite Part About Owning Pet Dreams
Being able to fulfill my dream of owning a business, doing what I love (most of the time), receiving great customer reviews, and being able to help other people starting their own business.
Hardest Park About Owning Pet Dreams
There are a lot of sacrifices and responsibilities that come with owning a business such as long hours, legal issues, and dreaded business taxes. The most difficult is not giving up when you face challenges.
Email Annette