The Highest Quality Dog Beds
The Highest Quality Dog Beds
Since 1999, Pet Dreams has created stylish pet and dog bedding including pads, mats, crate covers and memory foam beds designed to be comfortable and look great in your home. We go to great lengths to provide superior products by using only premium materials and the latest technology to make luxury products at a cheap, affordable price. The quality of our bedding is a result of our dedicated research and testing. We'll help you choose the best dog bedding accessories...keep reading.
Ortho-Bliss Memory Foam Dog Beds
Test Results: Memory Foam vs. Egg Crate Foam
An independent third-party consumer testing lab compared our Orth-Bliss memory foam clusters against egg crate and solid memory foam -materials typically used in cheap dog beds- to determine the amount of support each offered.
Objective:
The objective of this test was to subject 3 different bedding foam types to compression testing. Testing was done under controlled laboratory conditions with equipment qualified to perform these tests.
Material samples were compressed to 80% of the original thickness for 5 minutes to simulate use. All tests were guided by American Society of Testing and Measurements (ASTM) standards and conducted with equipment certified by the National Institute of Standards and Technology (NIST).
Test Results: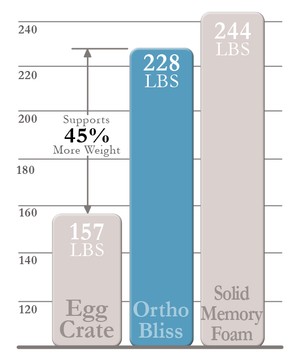 3" Solid memory foam supported 244 lbs when compressed at 80% of original thickness.
3" of Orth-Bliss memory foam clusters supported 228 lbs when compressed to 80% of original thickness.
3" Egg crate foam only supported 157 lbs when compressed, which is 45% less than Ortho-Bliss.


Scientific Test Procedure - ASTM D3574 Compression Testing
Testing of the specimens was guided by ASTM D3574-08; Standard Test Methods for Flexible Cellular materials- Slab, Bonded and Molded Urethane Foams.
Each of the three (3) test specimens were conditioned at ambient temperature and humidity prior to testing for a minimum of four (4) hours. Each specimen was then measured and weighed. The foam samples were then pre-flexed twice at a rate of ten (10) inches per minute to 25% of the original thickness. The test specimens were compressed to 80% of the original thickness at a rate of ten (10) inches per minute and held for a total of five (5) minutes. Load values were recorded at the time intervals one minute and five minutes.
Statement of Conformity
All materials, equipment, methods and processes used to perform the described testing have been standardized, calibrated and monitored in accordance with prescribed guidelines, standard operating procedures and the supervision requirements.
Ortho-Bliss Memory Foam Compared to the Competition
Our entire line of Orth-Bliss orthopedic memory foam dogs is made of 100% eco-friendly memory foam clusters. Many so called "orthopedic" dog beds contain only a thin layer of memory foam glued to inexpensive materials. Before you invest in a memory foam dog bed, you should know how much you're getting. The purpose is to prevent sore joints by molding to a warm body.

Pet Dreams Cratewear
Our goal is to make dog crates safe, comfortable and attractive. Pet Dreams Cratewear is a complete 3-Piece Crate Bedding Set consisting of a crate cover, bumper and supportive mattress/pad.
Plain Metal Crate

An empty metal dog crate doesn't provide a den-like atmosphere or comfort for your dog--and it certainly doesn't complement your home.
Reversible Mattress

Our reversible mattress acts as a pad, providing comfort and support. Completely independent it can be used everywhere your dog sleeps be it his or her crate, your couch, the car, or in front of the TV on the floor.
Safety Bumper

Safety bumpers protect and comfort your dog the same way bumpers protect a baby.
Decorative Cover

Finally, a comfortable space of his own that also complements your home. Guests will think your dog crate is a beautiful end table. Our variety of on-trend colors means you'll find a luxurious, high quality crate cover to match your home's interior, no problem.




Sleepeez Dog Beds and Mats
Unlike other pet beds, the Sleepeez line of beds and mats are filled with resin-bonded poly fiber. This material is made by mixing fiber with polyester, which is then heated to bond the polyester fibers together. When the process is complete, the finished fill comes out in a layered sheet. The resin-bonded process provides exceptional strength and durability.
We cut a cross section of the bed so you can see the layers of bonded poly fiber. You won't see loose, lofty fibers that can get lumpy after machine washing. The decorative stitching in the center of the bed prevents the fill from shifting so Sleepeez will keep its shape after every washing.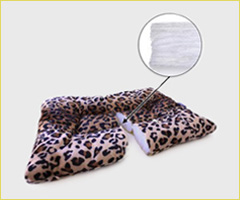 Donut Style Bumper Bed
Many traditional dog beds don't provide support. When dogs lie on them, the fill is displaced by their weight. But the interior channels we developed for our bumper dog beds hold the filling in place so dogs would not "bottom out" when lying down. These patent-pending interior channels keeps the fill where it belongs...under your dog.
Our eco-friendly bumper dog bed is filled with 100% recycled plastic bottles. That's right, the stuffing in each bed is made with upwards of 9 soda bottles! Not that you'd ever know it -it's a cushy, pliable material that'll fully support your dog no matter how small or large. What's more, the soft bumper offer great comfort.